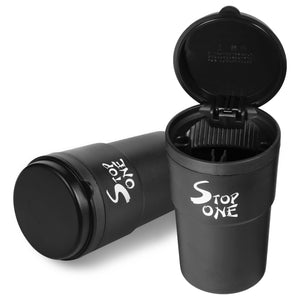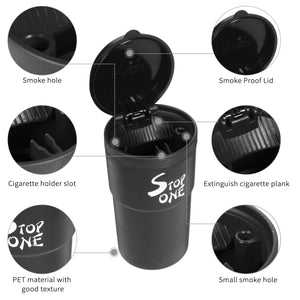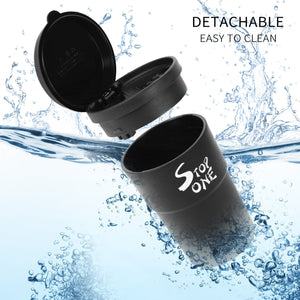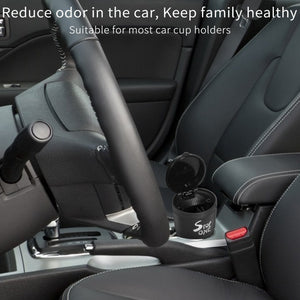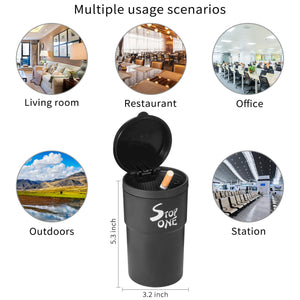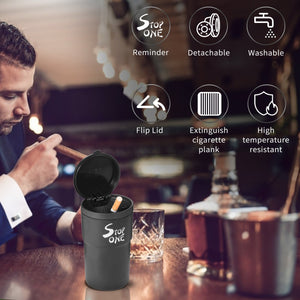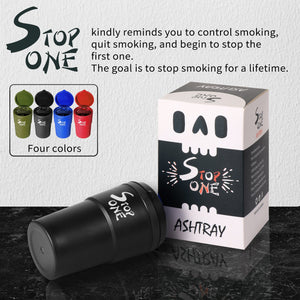 Product Features:
[Reminder]: STOP ONE kindly reminds you to control smoking, quit smoking, and begin to stop the first one piece. The goal is to stop smoking for a lifetime, which can save money, is good for health, whiter teeth, and fresher taste. It is never too late to quit smoking.
[Functions]: With a clamshell lid design to prevent smoke from spreading. Designed with two cigarette extinguishing ports (big and small), a cigarette holder, and a PBT extinguishing surface.
[Appearance]: Use a stylish and simple design in the shape of a water cup, with 4 color options, black, red, blue, and green. Very good texture, Deepen design which can be placed in the cup holders of most cars, can also be used indoors and outdoors.
[Flame retardancy]: Made of PBT flame retardant material, resistant to high temperature. Attention: for safety, do not forget to close the lid after use, because the unextinguished cigarette butts will still burn in an oxygen environment.
[Detachable]: Easy to clean, you can separate the cover part and the bottom liner, all parts washable. Wipe dry and reinstall it back.
Brand Story
STOP ONE sells various smoking-related accessory products. We will try our best to provide accurate and true information about the products, including materials, functions, and structure, size and weight, usage, and usage tips. If there is an incorrect expression, please kindly point it out.
The original intention of the STOP ONE brand is to express the theme of reducing smoking and quitting smoking. We will design our STOP ONE logo in the product as a kind reminder, and design the packaging pattern that does not promote smoking. Buying our products or presenting our products to relatives and friends around as reminders and collection gifts is our greatest value.
The benefits of quitting smoking
The body changes after quitting smoking are introduced in some health magazines. The following data is only for suggesting that you reduce smoking and quit smoking:
1. One less cigarette will increase your lifespan by more than 5 minutes
2. 24 hours after quitting smoking: The carbon monoxide in the body disappears, and the lungs begin to clear mucus and other unpleasant smoking residues.
3. 3-9 months after quitting smoking: Any respiratory problems have been improved, and the efficiency of the lungs has increased by 10%.
4. One year after quitting smoking: Reproductive capacity increased by 1/3.
5. 5 years after quitting smoking: The risk of heart disease has dropped to half of what it was before smoking, and the risk of stroke is equal to that of non-smokers.
6. 15 years after quitting smoking: The risk of heart disease is the same as that of people who have never smoked. Quit smoking before the age of 35, life expectancy will be the same as a normal person.
Specification:
Model No: CA-101-BK/RE/GN/BL
Color: Black/Red/Green/Blue
Material: PBT Flame Retardant Material
Product Size: 3.15*3.15* 5.31 inch
Product Weight: 0.37 lb
Packing Size: 3.54*3.35*6.69 inch
Packing Weight 0.51 lb
Package Included:
1* Car Ashtray
Warranty terms:
Free returns within 30 days and warranty within 90 days for this model