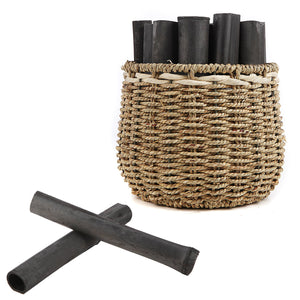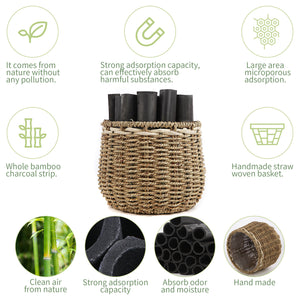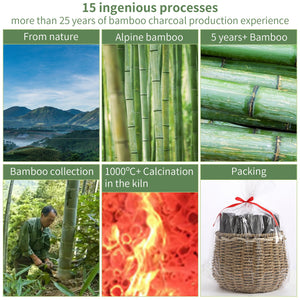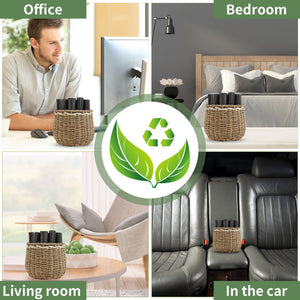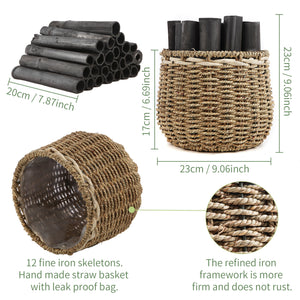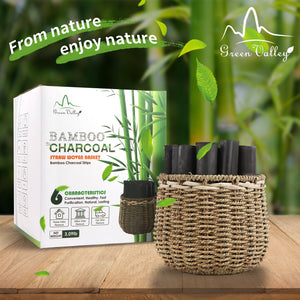 Product Features:
𝙎𝙤𝙪𝙧𝙘𝙚: Green Valley bamboo charcoal originates from natural mountainous areas without any pollution, the material used is more than 5 years of adult alpine Moso bamboo.
𝘼𝙞𝙧 𝙥𝙪𝙧𝙞𝙛𝙞𝙘𝙖𝙩𝙞𝙤𝙣: Green Valley bamboo charcoal strips have developed micropores, which can effectively adsorb harmful particles in the air such as Formaldehyde, Benzene, Toluene, Xylene, Ammonia, TVOC, electrostatic, etc. It can also reduce moisture. Reduce the harm of these substances to the human body.
𝙎𝙪𝙞𝙩𝙖𝙗𝙡𝙚 𝙛𝙤𝙧 𝙨𝙘𝙚𝙣𝙚𝙨: moving in a new house, moving in a new office, newly decorated house, moving in new furniture, newly purchased cars, etc., to reduce the odor in the environment. One basket can effectively cover 200-350 square feet. After the first use for 2 weeks, put it outdoors for 4-5 hours to release the absorbed harmful substances. After that, it can be taken outdoors to release harmful substances once in 1-2 months.
𝙀𝙡𝙖𝙗𝙤𝙧𝙖𝙩𝙚 𝙬𝙤𝙧𝙠𝙢𝙖𝙣𝙨𝙝𝙞𝙥: The product is finally completed through 15 processes from the material collection, cutting, high-temperature calcination at 1000°C+, and packaging, etc. Comes with a handmade straw basket
𝙋𝙖𝙘𝙠𝙖𝙜𝙞𝙣𝙜 𝙖𝙣𝙙 𝙩𝙧𝙖𝙣𝙨𝙥𝙤𝙧𝙩𝙖𝙩𝙞𝙤𝙣: The product passes through a strong hand-woven straw basket, which is covered with a plastic bag and kraft paper double-layer protection, and the outer box uses double-layer corrugated packaging. Ensure that it is not damaged during transportation.
Pure nature, the raw materials of bamboo charcoal come from pollution-free beautiful mountainous areas, and grown-up alpine Moso bamboos over 5 years old
Improve and purify the ambient air quality, strong adsorption capacity with many micropores
Effectively adsorb formaldehyde, benzene, TVOC, PM2.5, odor, humidity, and other harmful particles in the air
The whole bamboo charcoal strip is clearly visible, and it is packaged in an exquisite handmade straw basket, which is convenient to move and place.
An ideal gift for friends, relatives, and yourself, Especially suitable for new houses, new rooms, new cars, new furniture, new decorations, new offices, etc.
The product has been carefully selected, stored, calcined at a high temperature of 1,000 degrees, cut, and finely packaged in 15 production processes.

How to use

Placed in the bedroom, living room, car, office, and other scenes, 1 basket can effectively cover 250-400 square feet
Expose for 4-6 hours outside with sunlight for 3 weeks after the first use to release harmful substances. After that, it can be exposed once every 2-3 months.
Silently for 24 hours, 365 days of uninterrupted absorption of harmful substances in the air
Each basket can be reused for 2-3 years

Package Include:

About 30 bamboo charcoal strips, net weight 3.1 LB
A handmade straw woven basket, net weight 0.5 LB
Gift box packaging, product gross weight 4.0 LB