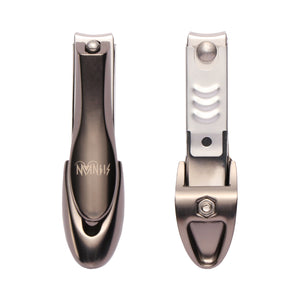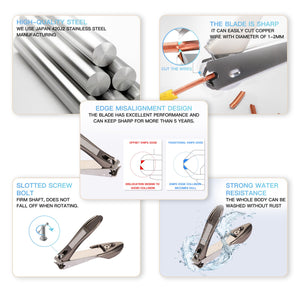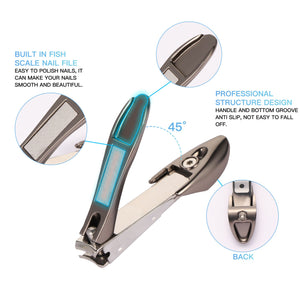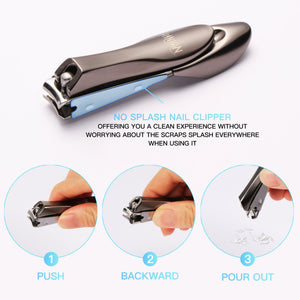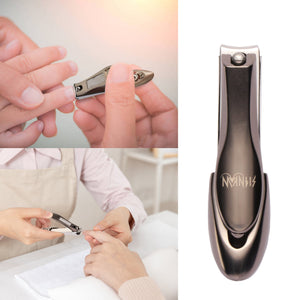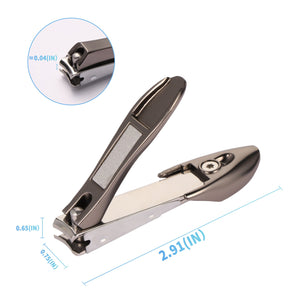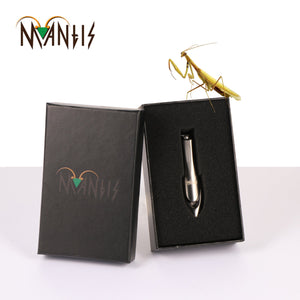 High-quality steel: Our nail clippers set are made of Japanese 420j2 stainless steel, which is very sharp and durable. Mantis nail clippers are available in two different sizes for female(small) and male(large),two colors champagne and black, two plating top surface process stainless steel and carbon steel (only for Kit). It can be used to trim nails and toenails. The stainless steel plating edge makes our nail clippers have excellent anti-rust performance.
No Splash Nail Clipper:MANTIS nail clipper provides a neat experience by storing the nail scraps into the catcher which is easy to use that you push up the catcher before you cut. After using MANTIS nail cutter, you can slide down the catcher and put the clippings out. Offering you a clean experience without worrying about the scraps splash everywhere when using.
Edge misalignment design: MANTIS nail clippers use edge misalignment technology to process the blade, so that the blade has excellent ease of use and sharp edges. The nail clippers are sharp enough to cut tougher or thicker nails and leave a smooth, clean cut every time, which means that with a sharp and precise blade, the blade will not tear or split the nail.
Bionic design: MANTIS nail clippers mimic the mantis shape design. The handle also has a specially designed method to prevent the nail clippers from slipping out of your hand. It also has excellent leverage and is also very suitable for elderly people. And our nail clippers have a built-in fish scale nail file, which can make your nails smooth and beautiful.
Sharp and durable: MANTIS nail clippers can easily cut 1-2 mm diameter copper wire to keep it from fraying. Regular use can maintain sharpness for more than 5 years
Risk-free purchase-we are full of confidence in product quality, and we provide 100% satisfaction for a worry-free replacement guarantee. We provide unconditional returns within 30 days, a lifetime warranty, and provide comprehensive customer support services.