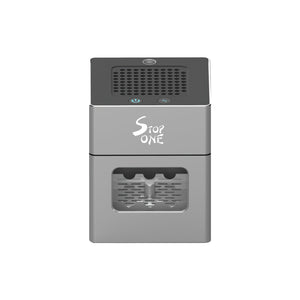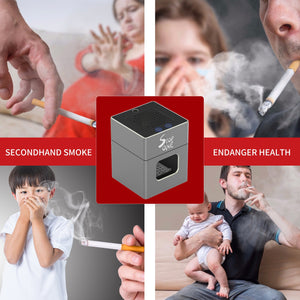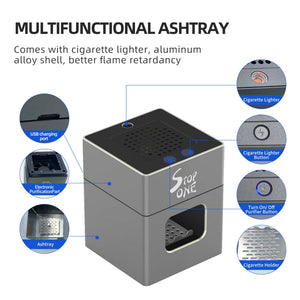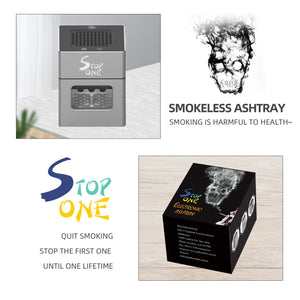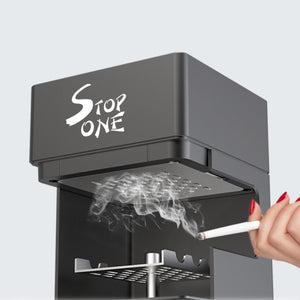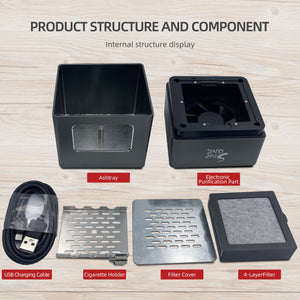 Product Features:
[Reminder]: STOP ONE kindly reminds you to control smoking, quit smoking, and begin to stop the first one piece. The goal is to stop smoking for a lifetime, which can save money, is good for health, whiter teeth, and fresher taste. It is never too late to quit smoking.
[Multifunctional ashtray air purifier]: Not only an ashtray used to store cigarette butts and ash, but also an air purifier to reduce the smell of cigarettes, with an electronic cigarette lighter built in the top. Reduce and prevent people around from suffering from second-hand smoke. It is widely used in home, office, hotel, casino, car and other places. Purifying the air and removing odors and smoke is a gift for smokers.
[High-efficiency purification]: Cigarettes are placed in the middle opening and smoke is filtered at the top. The air is purified by the 4-layers filter mesh to ensure the purification effect. According to your frequency of use, we recommend that you replace the filter in about 3-4 months.
[Safe, detachable and easy to clean]: The product is made of most aluminum alloy and flame-retardant ABS materials, high temperature resistance, two-layer structure, detachable, the lower layer is an ashtray layer, design with a stable cigarette holder, after disassembly, cigarette butts and ash can be dumped directly, washable, After washing, it is recommended to dry and use. The upper layer is the electronic purification layer (Do Not Wash) please do not rinse with water, to avoid short circuit damage to the product, just use a dry clean soft cloth to wipe this part.
[Rechargeable Design]: Built in 1000mAh lithium battery DC5V, can be used up to 5-6 hours with full charge. No need to change batteries frequently.
Brand Story
STOP ONE sells various smoking-related accessory products. We will try our best to provide accurate and true information about the products, including materials, functions, and structure, size and weight, usage, and usage tips. If there is an incorrect expression, please kindly point it out.
The original intention of the STOP ONE brand is to express the theme of reducing smoking and quitting smoking. We will design our STOP ONE logo in the product as a kind reminder, and design the packaging pattern that does not promote smoking. Buying our products or presenting our products to relatives and friends around as reminders and collection gifts is our greatest value.
The body changes after quitting smoking are introduced in some health magazines
1. One less cigarette will increase your lifespan by more than 5 minutes
2. 24 hours after quitting smoking: The carbon monoxide in the body disappears, and the lungs begin to clear mucus and other unpleasant smoking residues.
3. 3-9 months after quitting smoking: Any respiratory problems have been improved, and the efficiency of the lungs has increased by 10%.
4. One year after quitting smoking: Reproductive capacity increased by 1/3.
5. 5 years after quitting smoking: The risk of heart disease has dropped to half of what it was before smoking, and the risk of stroke is equal to that of non-smokers.
6. 15 years after quitting smoking: The risk of heart disease is the same as that of people who have never smoked.Quit smoking before the age of 35, life expectancy will be the same as a normal person.
Specification:
Model No: EL-AL1-GR
Color: Grey
Material: Aluminum, PC-ABS, Lithium battery and circuit
Packing Size: 5.16*4.57*4.06 inch
Packing Weight 1.32 lb
Rated Voltage: DC 5.0V
Rated Power: 2.0W
Noise: ≤55db
Applicable temperature:- -10℃-40℃
Package Included:
1* Electronic smokeless ashtray
1*4-layers filter mesh(Included)
1*USB Cable
1*User Manual
Warranty terms:
Free returns within 30 days and warranty within 180 days for this model